Pastor Scott Wilson began serving as the Senior Pastor of Bethel Baptist Church in July of 2014. Prior to Bethel, he served in pastoral ministry in the Seattle, WA area for 15+ years. He is a Denver Seminary graduate and a chaplain in the Air National Guard. Scott and wife Heather have been married for 20 years and have three children.
Scott's favorite aspect of ministry is having a front row seat to the transforming work of Jesus in the lives of others. He loves to preach, lead ministry teams and share God's love with a hurting world in need of Jesus.
In his free time, he loves participating in his kids' activities and spending time with his lovely wife Heather. He roots for the Seattle Seahawks but is still deciding which MLB team to support since moving to Illinois. As a Seattle native, he's a coffee lover and treasures a tall latte done right. He and his family enjoy road trips, sports, fishing and making fun family music videos while on vacation.
Rick married Sue, his high-school sweetheart, in 1972. They have two children, Megan and Adam. Besides serving as an elder, he teaches Sunday School and is a "Truck Club" member. He enjoys bicycling, reading, spending time with family, and talking to people.
Terry has been married to his wife Joni since 1984. They have two children: Mallory Nyman and Bradley Stewart. Mallory is married to her husband Ryan and works as a photographer. Bradley is married to Lora and is the office manager at Righteous Rides. Terry currently works for the BNSF Railway. In his free time, Terry enjoys fishing, traveling and spending time with his family (especially the grandkids!) "I love that there are so many generations of families in Bethel. It awesome to see parents faithfully bring their children to Bethel and those children grow up bringing their children to Bethel."
David is married to his wife Becky and they have two daughters, both of which are happily married. David loves Bethel because it offers many different opportunities to serve and worship.
Tim has been married to Cindy for 33 years. They have two boys, Chris (Amber), and Steve (Valerie). Tim runs a computer network services business, Technology Transfer, LLC. In his spare time, Tim enjoys woodworking, fishing, traveling, and working on his farm. Tim has served at Bethel in a number of capacities including elder and teacher.
Todd and his wife Laura Joy were married at Bethel in 1994. God blessed them with four children: Connor, twins Camryn and Camdon, and lastly Carley. Todd and Laura enjoy family time, and watching their kids apply and develop the gifts and talents God blessed each with.
One of the joys of Bethel is witnessing how God changes people's lives. While teaching the children's membership class I enjoy hearing how our young ones discover Jesus' love, and then watch them grow and mature along their spiritual journeys. It always amazes me how diverse, yet similar each personal story is.
Josh began attending Bethel in 1995 after he met his future wife and life-long Bethel member, Rikki. Josh and Rikki were married at Bethel in 1999 and they have 4 children: Donnivan, Damon, Devon, and Lydia. Josh is also involved in the AWANA program where he has been the Commander since the program came back to Bethel. Josh and Rikki love the fact that Bethel has a variety of ministry opportunities where their children can both participate and volunteer while growing closer to God.
Mark has been married to his wife Ann since 1995 and has attended Bethel since 1998. Mark feels that Bethel has always been blessed with sound biblical doctrine from the pastors. He loves the traditional worship service and the adult Sunday school classes that the church offers because of the varied topics and outstanding teachers.
Roger is happily married to his wife Deloris and has two daughters and one son. Roger loves Bethel because they are taught to live Biblical truth with love and grace."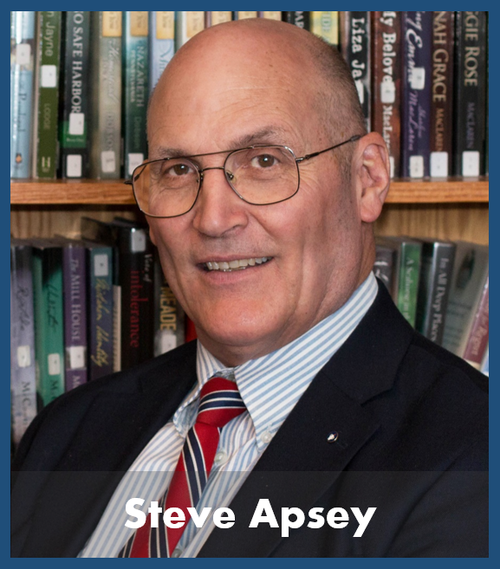 Steve accepted the free gift of Jesus in 1998 after living 52 years thinking he was a Christian. Steve and Sharon, his wife since 1971, have three children and four grandchildren. Steve is retired from 27 years as CEO of Galesburg Manufacturing Co. Serving in any capacity at Bethel has always been a joy for Steve and his hope is to serve as long as the Lord has a purpose for him.
Charlie has attended Bethel since he was born. He met his wife at Bethel youth group, where they served together many years ago. They have been married for 23 years. Charlie is a step dad to Caleb who is married and is expecting with their first grandchild. Charlie and Sherri have two daughters, Molly who recently got married and Ariann who is in her Senior year of high school. Charlie is also co-owner of Bailey Excavating and has the Roto Rooter Franchise here in town. In his free time, he likes to be at home and spend time with his family. He and his wife enjoy going to the second service. Bethel has helped him to deepen his faith in Christ and is looking forward to serving in this capacity.