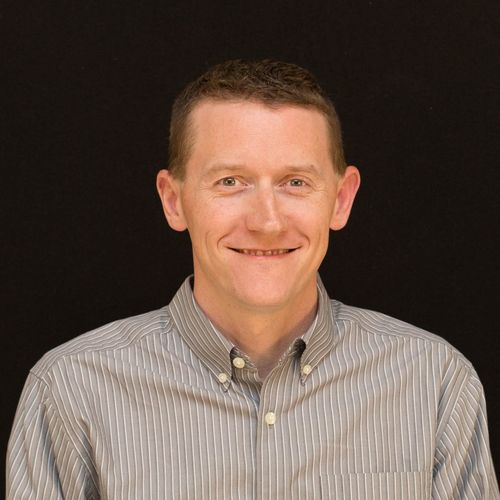 Pastor Scott Wilson began serving as the Senior Pastor of Bethel Baptist Church in July of 2014. Prior to Bethel, he served in pastoral ministry in the Seattle, WA area for 15+ years. He is a Denver Seminary graduate, a chaplain in the Air National Guard and deployed to the Middle East as an Air Force Chaplain in 2019. Scott and wife Heather have been married for over 20 years and have three children.
Scott's favorite aspect of ministry is having a front row seat to the transforming work of Jesus in the lives of others. He loves to preach, lead ministry teams and share God's love with a hurting world in need of Jesus.
In his free time, he loves participating in his kids' activities and spending time with his lovely wife Heather. As a Seattle native, he's a coffee lover and treasures a tall latte done right. He and his family enjoy road trips, sports, fishing and exploring new places.
Pastor of Adult Ministries
Weston Oxley became Bethel's Adult Ministries Pastor in 2017. Previously, Weston had served for 10 years as the Student Ministries Director. Weston is married to Amy and they have five children.
Weston doesn't have much spare time because of his five energetic children, but when he does have time, he enjoys coaching soccer, going geocaching, and spending time with his family. Weston also likes to play basketball and watch movies.
Director of Worship and Creative Arts
Kevin has been married to his wife Stephanie since 2011 and have two boys (Judah and Graham) and a baby girl (Selah). Kevin grew up coming to Bethel and loved serving in the worship and youth ministries. After college and working in a few other churches he returned to Bethel as the Director of Worship & Creative Arts in January 2019.
Kevin is passionate about seeing God's church engaging in heart-felt, spirit-and-truth, vertical adoration of Jesus Christ. Worship is what believers will be doing for all of eternity, so it's great to practice right now!
In their free time, the Fogerty family loves to travel, be outside, cheer on the world champion Chicago Cubs, and play sports together.
Director of Youth Ministries
Zach is married to his wife Brittni, have two daughters: Evelynn and Rosalee, and a dog named Albus. Zach grew up in the Quad Cities and Brittni grew up in the Peoria area. They were brought together one fateful summer at Faith Bible Camp and the rest is history. He loves being part of the Bethel family and loves getting to know his students, leaders and other people at Bethel.
In his free time you can see Zach spending time with his family, playing disc golf, and other outdoor actives, watching sports, and watching movies/TV Shows. Zach is a fan of the Chicago Cubs and Seattle Seahawks.
Director of Children and Family Ministries
Ricky Stufflebeem has been the Director of Children and Family Ministries since 2011. Ricky is married to Marty, his wife of 41 years, and they have three daughters along with ten grandchildren. All of the Stufflebeem family live in Galesburg. Ricky's favorite aspect of Bethel is the people. Ricky believes that Bethel is a family of generous people who give back to God through service, giving, and friendship.
In his spare time, Ricky and Marty love to be involved with their grandchildren's activities. The couple are regulars to baseball fields and the volleyball and basketball courts. They also enjoy riding motorcycles and traveling. The Stufflebeem's also love to be on Short Term Mission teams and serve in the missions field.
Cindy Reynolds has served as Bethel's Director of Stewardship since 2016. She has been married to her husband Tim for 30+ years. They have two adult children: Chris (Amber) and Stephen (Valerie), and three grandchildren. In her role, Cindy manages the financial affairs of the church alongside the Treasurer and Elders. She also works with teams to convey the message to Bethel family members that all we have belongs to God and we are charged with administering our time and our gifts and our finances on His behalf and to His glory.
In their spare time, Tim and Cindy love to spend time with family and friends, especially if they are fishing in Minnesota. Cindy also enjoys gardening.
Jami McGarry has been Bethel's Administrative Assistant since 2007. Jami has been married to her husband Brian for 20+ years and they have two kids, Jake and Maddi, who keep the couple busy with school, church activities, and numerous sporting events. Jami has attended Bethel her entire life and has many reasons why she loves worshiping here. One of the things she loves most is the people and how they are such faithful prayer warriors. Jami and her family have counted on these Bethel friends to pray them through many trials in their lives and have been blessed abundantly by their prayers and friendship.
The McGarrys enjoy family activities such as fishing, 4-wheeler rides, long walks with their dogs, playing sports, watching movies and sporting events, as well as finding opportunities to serve Jesus together.
Administrative Assistant of Children and Youth
Community Care Coordinator
Julie is the proud mother of 3 children, Paelynne, Milan, and Kyran. She grew up on a dairy farm and graduated from Williamsfield High School. Later, she graduated from Carl Sandburg College and is currently pursuing her degree in Behavioral Health with Emphasis in Trauma through Grand Canyon University's online curriculum. Julie has lived in the Galesburg area most of her adult life.
Julie is proud to call Bethel her family. She feels blessed with the opportunity to be part of the Bethel Administrative Team and Community Care Coordinator.
When she's not working, she loves to read, sew, listen to jazz, work in the yard, spend time with her kids, and she is enjoying her first grandchild, Braelynne.
Administrative Assistant of Worship, Communications, and Adult Ministries
Lauren has attended Bethel for most of her life. She graduated from Western Illinois University with a major in Graphic Communications. In the summer of 2014, she was a media arts intern at Pioneer Bible Translators. Lauren has a heart for ministry and feels very blessed to work with the fabulous staff at Bethel. In the afternoon, she works as a receptionist at the Galesburg Recreation Facility.
In her spare time, Lauren enjoys being involved in student ministries at Bethel, reading, learning about plants, and spending time with her friends.
Russ's favorite aspect of Bethel is being part of a large, vibrant community of people dedicated to Christ. He loves that Bethel values the involvement and development of children and young families. Russ's favorite Bible verse is John 14:6. He likes this verse because in two short sentences, the profound truth of Jesus' ministry on Earth is revealed. In his free time, Russ likes to relax and play racquetball.
Ron's favorite part of his ministry is helping people out and serving them. In Ron's spare time, he enjoys hunting (especially deer) and spending time with his family.
Kaye Randell has attended Bethel for 23 years and started working on staff in 2013. You can find her keeping an eye on the front office every Saturday morning. Kaye has been married to her loving husband Dan for 41 years. They have four children between them and three grandchildren. Kaye's favorite part of Bethel is the outreach to the Galesburg community. Bethel reaches out to many specific groups that need support. In her spare time, she enjoys reading a good book and traveling (especially taking a long, relaxing cruise).